Archeus – Vital Living Back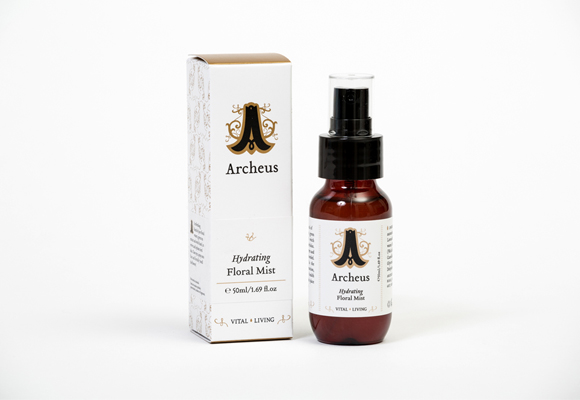 We're proud to profile a newly released skincare range, Archeus by Georgina Langdale.
We began working with Georgina at the beginning of this year, conducting an initial brand workshop to establish her brand positioning before developing the Archeus visual identity. Over the time we have planned, reviewed the long term strategy and goal and evolved Archeus accordingly. It has been a fantastic journey.
Archeus means 'life force' – a word first coined by the 16th Century physician and alchemist Paracelsus. He used the term Archeus for the vital life force that resides within us, believing everything was connected and that well-being relied on the harmony of man, nature and the universe. The Archeus brand understands this well and is acutely conscious of the imbalance and disharmony that seems to rule the 21st century.
Georgina's new skin care range pays tribute to the concepts of Paracelsus, her skin care range blends the finest natural ingredients with herbal wisdom. They are designed to be applied topically and to be imbibed.
Its philosophy is imbued with the vitality of Nature. One of the great aspects of the Archeus brand (besides the range being beautiful to use) is that a key part to the business is focussed on giving back to nature. A portion of Archeus proceeds from all sales are directly invested back in plant conservation. A value we LOVE.
The Archeus monogram was inspired by Georgina's favourite flower – the bluebell. This flower is symbolic of humility, gratitude and everlasting love. Bluebells are the artists of Springtime, painting the forest floor in a carpet of blue that heralds a new season as well as change.
In many ways Archeus is a catalyst of change and portrays this with its truly holistic business model. Georgina, like Paracelsus is showing us a new perspective and heralding a new era of thinking. We congratulate her for bravely living her dream … and our skin thanks her for giving us such amazing product to use.
What can we say. Just try it www.archeus.co.nz